Menus Available in Receive Fund Search Page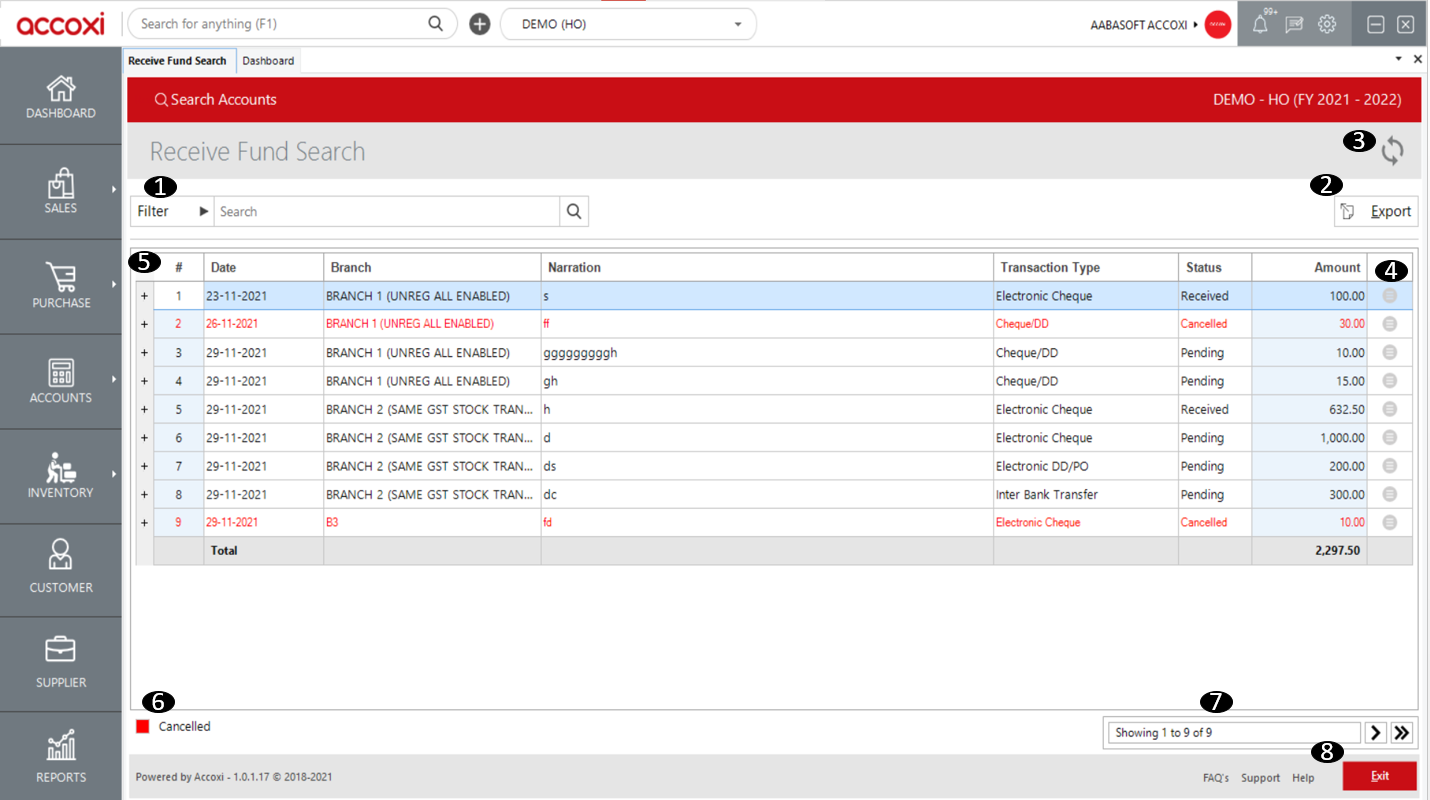 Filter Option
The user can filter the receive fund details in two ways. Either can directly enter from account in to the Search Bar near Filter Option or by clicking the Filter menu. By clicking on the Filter menu, filter tab will open and it includes three options to filter the data. User can filter the data by selecting From branch or By date option and by selecting a particular status. After selecting/entering the filter details user needs to click on Apply button to filter the data and the data will open based on the details entered. 
Export Option
The Fund Received data can be Export to Excel format. Click On the Export button at the top right corner. Select the file location and click on Save.
Refresh Option
If the latest data is not displayed then click on the refresh option
More Options
More options include two additional options, which are Receive and Cancel. User can approve the received fund by using the Receive option and can reject it by using the Cancel option.
Journal view icon (+)
A + icon is given on the left side of the data table and it helps the user to access the journal view of the particular receive fund transaction. When the user clicking on the icon, a new tab will open and it shows the ledger, debit and credit amount details of the particular transaction.
Cancelled
Cancelled receive fund details are displays with color format. Red color indicates the Cancelled transfers.
Pagination control
It controls the page navigation and the page size. Page size can be set to 10, 20, 50 or 100. By giving page number in the box and clicking on Go button, user can jump to the intended page
Exit Option
If the user wants to exit from the current page click on the "exit" option, then it redirects to the previous page.
Steps to Accept/Cancel new received fund
Click on the Accounts menu and select Fund Transfer
Click on Receive Fund menu under the Fund Transfer
Then it redirects to Receive Fund Search page
Click on the More options on the right side of the data table
It shows two options which are Receive and Cancel
After click on Receive, it redirects to Fund Received View page.