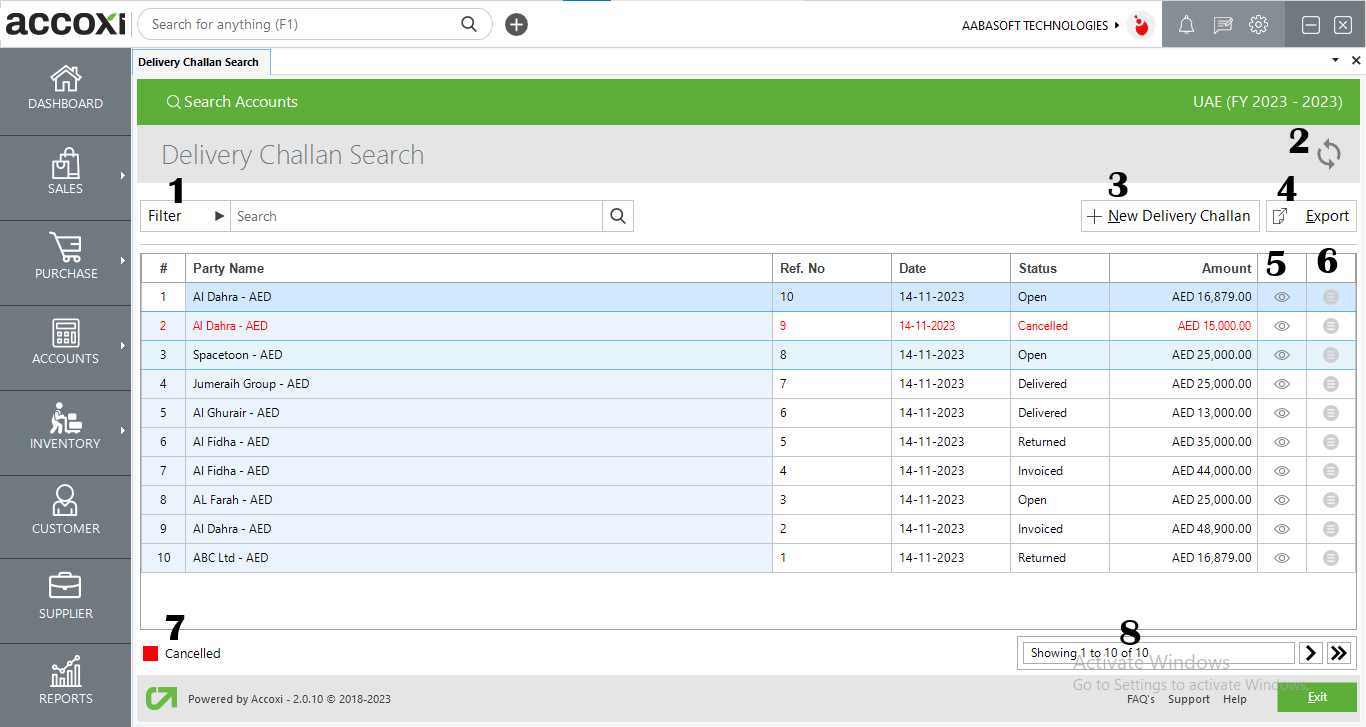 Filter Option
Users have two options to filter Delivery Challans. Firstly, they can directly enter customer name, reference number, status, date, and amount in the search bar. Secondly, they can click on the filter option, choose a filter from the drop-down list (customer name, status, reference number, date, or amount), and then click on the Apply option.
Refresh Option
If the most recent data is not visible, simply click on the refresh button.
New delivery Challan
The "New Delivery Challan" option enables users to generate a new delivery challan.
Export Option
Users can export Delivery Challan details into PDF format by utilizing the export option. Upon clicking "Export to PDF," a "Save As" directory option will appear, allowing the user to choose the location for saving the PDF file.
View option
This icon directs you to the Delivery Challan View Page.
More options
Users have the ability to Edit, View, Export to PDF, and Print the Delivery Challan by selecting the "More Options" menu.
Edit Option: Takes you to the Delivery Challan page for editing.
View Option: Redirects to the Delivery Challan View page for detailed inspection.
Export To PDF Option: Enables the user to convert the Delivery Challan to PDF format.
Print Option: Allows the user to print the created Delivery Challan if needed.
Cancelled
A cancelled Delivery Challan is visually distinguished by being highlighted in red color.
Pagination Control
This feature manages page navigation and page size. The user can set the page size to 10, 20, 50, or 100. By entering the desired page number in the box and clicking the "Go" button, the user can navigate directly to the intended page.
To create a Delivery Challan, follow these steps:
Navigate to the Sales Section and click on "Delivery Challan."
On the Delivery Challan Search page, click on "New Delivery Challan."
You will be redirected to the Delivery Challan page.
Choose the Date and Item Rate.
Select the Customer.
Optionally, include any Customer Note or specify Terms and Conditions.
Choose the product by entering it in the product or services menu.
Enter the desired quantity of goods.
Apply any applicable discounts.
Click on the "Save" button to finalize the process.