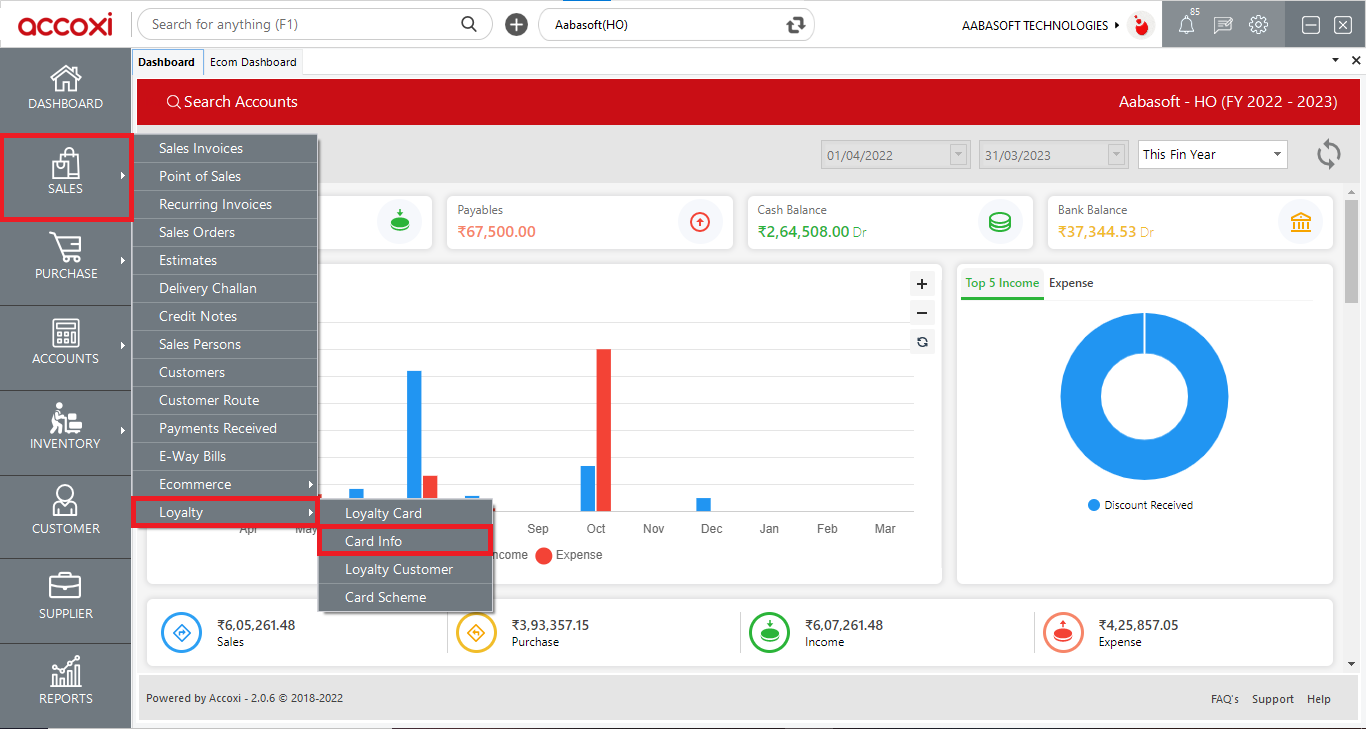 LOYALTY CARD INFO SEARCH
Loyalty card info search can be accessed by clicking on Inventory=>Loyalty=>Card info
Users can view all the created loyalty card information from this form.
OPTIONS AVAILABLE IN LOYALTY CARD INFO SEARCH
1. FILTER:
The filter option in the loyalty card info search window helps the user to filter the loyalty card info data shown in the window
The filter of loyalty card info search can be done in two ways-Either you can directly enter the card number into the search bar near the filter option or by clicking the filter drop-down, you can filter the data by selecting the loyalty card name, card series, card number/branch. Users can also filter the data based on Used, Unused, and blocked
2. New Card Info:
The new card info option redirects the user to a new loyalty card form where the user can create new loyalty cards. Users can define loyalty card series, the number of loyalty cards to generate, and the allocation of loyalty cards to branches.
Steps to create a new loyalty card info:
Go to the sales module and select loyalty
From loyalty sub-options select card info
The loyalty card info search form opens, select new card info
In the new loyalty card info form select the loyalty card name which is already defined in the loyalty card form
Then enter the loyalty card series that the user wants to create cards
Then define the loyalty card number from and to. This creates cards numbered between the assigned From and To series
Select and assign the branches to which the user want to allocate the cards
3. Export
The loyalty card info can be exported to Excel format. Click on the Export button at the top right corner near the +Card info button. Select the file location and click on save.
4. Refresh
If your latest data is not displayed, click on the refresh icon on the top left corner of the page to fetch the new data.
5. More options:
The loyalty card more option has 2 options one is to block the related loyalty cards and other is to access the assigned loyalty customer details.
6. Color filter.
The blocked loyalty cards are shown in red color.
7. Pagination Control
It controls the page navigation and the page size. Page size can be set to 10, 20, 50 or 100. And by giving page number in the box and clicking on Go button. It jumps to the said page.
8. Exit
Below the pagination control, there is exit button. If you want to exit the loyalty card info search page click on exit button.